Thursday, November 25th, 6 - 10 P.M.
Art Grain - an art walk through Körnerkiez
Studios and Galleries open their doors for a surprising scene of high level international artists.
Kunstfiliale Körnerkiez has initiated a curated tour through 12 locations an will be showing more than 40 participating artists. We hereby invite all of our neighbours and art enthusiasts from all over Berlin, to take a look at the exhibition and production rooms of Körnerkiez. Particularly painting, installation, video, and photography are waiting to be discovered.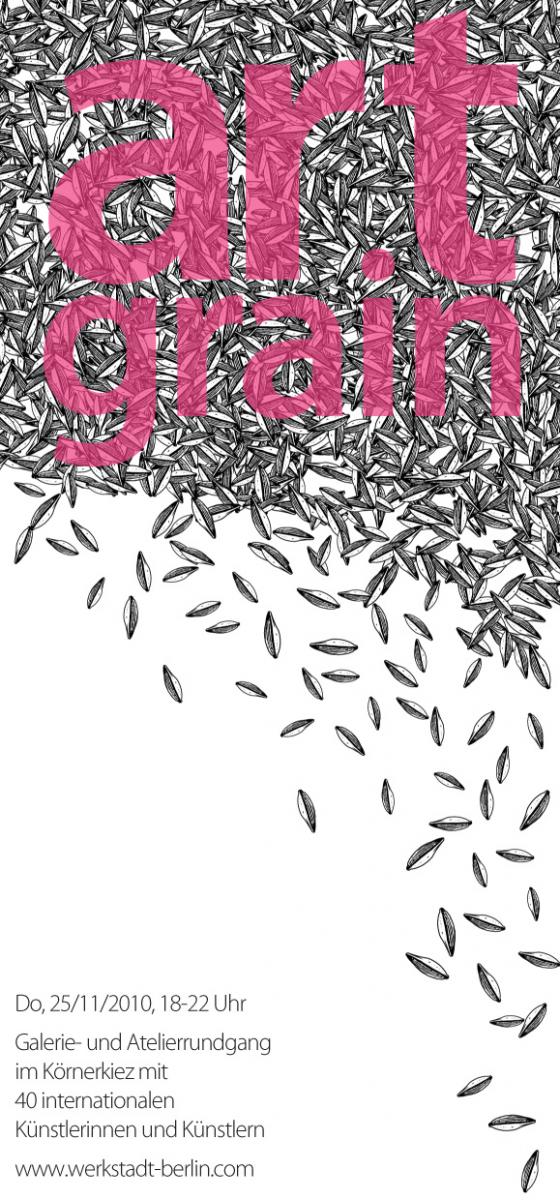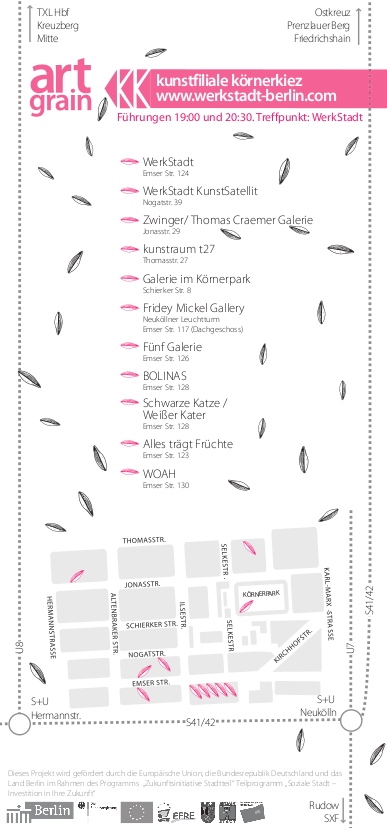 Gastkuratoren - Art Grain Location:
Galerie Thomas Craemer - Zwinger
FMAB Galerie - Neuköllner Leuchtturm
Coaching Culture Gallery - Alles trägt Früchte
Barbara C. Schulze - Galerie im Körnerpark
Teilnehmende Künstler - Art Grain Location:
Marcus Ahlers - WerkStadt KunstSatellit
Ercan Arslan - Schwarze Katze / Weißer Kater
Lilli Bantel - Galerie im Körnerpark
Jason Merrill Benedict - WerkStadt KunstSatellit
Jana Bolz - Alles trägt Früchte
Mit Borras - Fünf Galerie
Kerstin Braun - WerkStadt KunstSatellit
Johannes Buss - Neuköllner Leuchtturm
Oliver Dehn - Alles trägt Früchte
Maurice Doherty - BOLINAS
Rico Federle - Galerie im Körnerpark
Marc Floßmann - Ungeheuer (Emser Str. 23)
Marco Fracassa - Zwinger
GODsDOGs - Zwinger
Peter Goettler - Alles trägt Früchte
Carola Göllner - Neuköllner Leuchtturm
Arne Groh - Galerie im Körnerpark
Christian Grosskopf - Neuköllner Leuchtturm
Thomas Hendrikson - Neuköllner Leuchtturm
Jane Hughes - WerkStadt KunstSatellit
Jangyoung Jung - WerkStadt
Sabrina Jung - kunstraum t27
Thomas Kleinschmidt - Galerie im Körnerpark
Thomas Koch - Alles trägt Früchte
Rachel Lamot - Fünf Galerie
Eoin Llewellyn - kunstraum t27
Clement Loisel - WOAH
Gretta Louw - WerkStadt KunstSatellit
Mariana Morais - WerkStadt KunstSatellit
Diana Moro - Alles trägt Früchte
Uli Neuling - BOLINAS
Enda O'Donoghue - kunstraum t27
Jirka Plachy - Galerie im Körnerpark
Jelka Plate - Galerie im Körnerpark
Paul Racheja - Zwinger
Korvin Reich - kunstraum t27
Sabine Schuberth - Galerie im Körnerpark
Julischka Stengele - Zwinger
Elke Verbnik - Galerie im Körnerpark
Mischa Wagner - Alles trägt Früchte
Gerard Waskievitz - Alles trägt Früchte
S.O. Wolter - Galerie im Körnerpark
Sabe Wunsch - Galerie im Körnerpark
A. Zettelmann - Galerie im Körnerpark