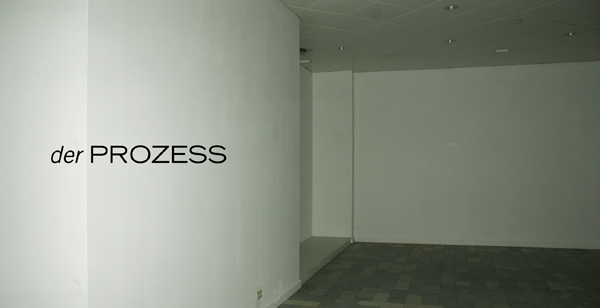 der PROZESS
hunchentoot goes out 2
Mathew Davis, Dennis Neuschäfer-Rube, Enda O'Donoghue, Manfred Peckl, Susanne Pomrehn, Gregor Stephan, Marc Volk and Günter Wintgens
Leipziger Str. 63, 10117 Berlin
Opening: 27th November 2009 at 19:00
Exhibition dates: 27th November – 22nd December 2009
Opening times: Tuesday-Friday. 4pm-7pm, Saturday 10am-6pm and by appointment
Galerie hunchentoot presents the second in a series of "off-site" group exhibitions.
Featuring the works of eight artists who play with the depictions of reality, the pieces intersect and collide to create a patchwork of perspectives. The meticulous reproduction or the systematic deconstruction of the photographic, filmic and cartographic object is itself a translation process, one that attempts to reconfigure a part of reality with a personal set of rules. It in turn requires re-translation on the viewer's part for the art to acquire a significance beyond that of the original maker.
The pieces in Der Prozess demonstrate "other" representative potentials of a familiar medium by thorough breakdown: a large football stadium made up of controlled paint drips, an entire Kubrick film flattened frame by frame into a hypnotic colour matrix. They ultimately offer a challenge of interpretation, a reality filtered and arranged by the art producer, whose perception is decoded and contextualised by the viewer. In a way, Der Prozess not only intimates the observable mechanics on the surface of the artwork, but — perhaps more importantly — at the reciprocal acts of understanding and relaying a certain reality.
Organised and curated by Gregor Stephan, Enda O'Donoghue and Hannes Uhlemann.
———-
der PROZESS
hunchentoot goes out 2
Mathew Davis, Dennis Neuschäfer-Rube, Enda O'Donoghue, Manfred Peckl, Susanne Pomrehn, Gregor Stephan, Marc Volk und Günter Wintgens
Leipziger Str. 63, 10117 Berlin
Eröffnung: 27. November 2009 um 19.00 Uhr
Ausstellungsdauer: 27. November 2009 – 22. December 2009
Öffnungszeiten: Dienstag - Freitag 16.00 – 19.00 Uhr, Samstag 10.00 – 18.00 sowie nach Vereinbarung
Galerie hunchentoot präsentiert die zweite Ausstellung in einer Serie von "off-site"-Ausstellungen.
Acht Künstler deren Werke mit der bildlichen Transformation von Realität arbeiten, erzeugen in ihrer Gesamtheit ein komplexes Muster unterschiedlicher Blick- und Bildwinkel.
Die Arbeiten setzen im Rahmen einer analytischen und systematischen Vorgehensweise auf ungewöhnliche Methoden, um mit Formen und Bildern zu arbeiten, die grundsätzlich einem sehr vertraut sind: ein großes Fußballstadion, das sich aus kontrollierten Farbtropfen zusammensetzt; ein ganzer Kubrik-Film, der Bild für Bild aneinandergereiht sich in eine hypnotische Farbmatrix transformiert oder in Streifen geschredderte Atlanten, die zu neuen Landschaftsbilder collagiert werden.
Die systematische Reproduktion und Dekonstruktion fotografischer, filmischer und kartografischer Objekte stellt einen Transformationsprozess dar, der zum Ziel hat, die anonyme Realität durch ein persönliches System von Regeln zu ersetzen.
Dadurch stellen sie eine Herausforderung an das Interpretationsvermögen dar, und bieten eine durch den Künstler gefilterte und arrangierte Realität. Diese wird erst durch den Betrachter des Kunstwerkes kontextualisiert und entschlüsselt. Der Prozess spielt dabei nicht nur mit den sichtbaren Prozessmechanismen innerhalb und außerhalb des Kunstwerkes selbst, sondern vermittelt auch – und dies ist vielleicht viel wichtiger – durch einen gegenseitigen Akt des Verstehens zwischen Betrachter und Werk unterschiedlichste Bildrealitäten.
Organisiert and curatiert von Gregor Stephan, Enda O'Donoghue and Hannes Uhlemann.