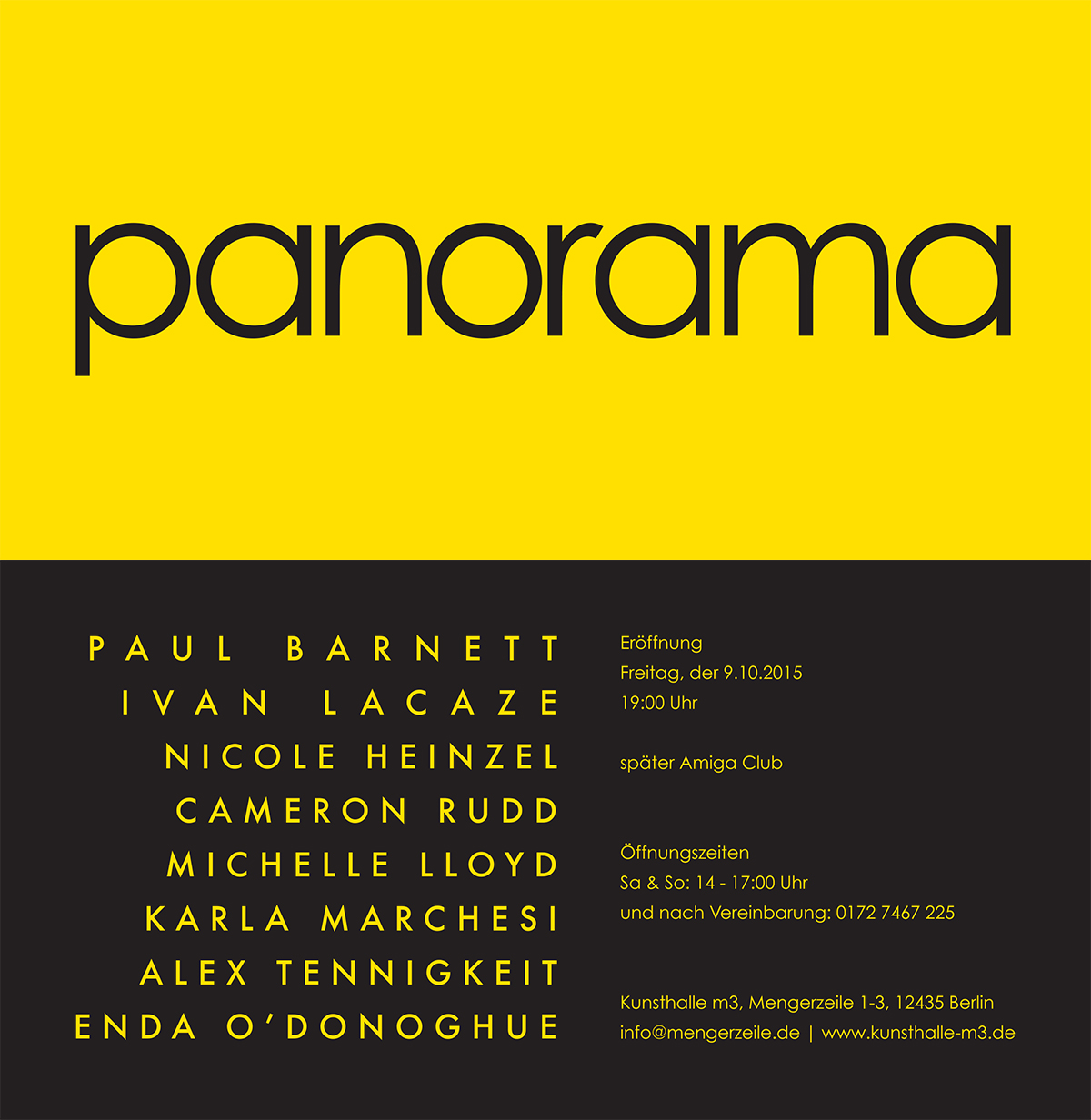 PAUL BARNETT        IVAN LACAZE
        NICOLE HEINZEL       CAMERON RUDD
MICHELLE LLOYD      KARLA MARCHESI        ALEX TENNIGKEIT     ENDA O'DONOGHUE
Opening Friday 9th October 2015 at 7pm
Exhibition runs from Friday 9th - Sunday,18th October 2014
PANORAMA
In the present day, with huge crystal clear high definition widescreen televisions and mobile phone apps which can stitch photos together to create seamless 360 degrees views, the power of the panorama has been somewhat diluted. However not so long ago it was difficult not to conjure up ideas of cinema, or what could be described as the cinematic view, when confronted by panoramic images. One of the chief reasons that cinema adopted the widescreen formats, such as the classic CinemaScope format, was to compete with the rising popularity of television in the 1950's and these new formats became quickly favoured for epic movies often of a religious or historic flavour.
In previous centuries painting adopted the panoramic format and similarly used it to depict major historical events and heroic battle scenes. In fact the word "panorama" has its origins in painting, it was coined in the late 18th Century by the Anglo-Irish painter Robert Barker to describe his own 360 degree cityscape paintings of Edinburgh and London which were presented on a cylindrical surface. These proved to be hugely popular with the public and soon a trend in panoramic painting spread across Europe. The poet William Wordsworth famously took an extreme dislike to the format, describing it as a charade which inhibited people's ability to imagine things for themselves. Despite this the panoramic format continued to proliferate and with the invention of photography the format was quickly adopted by assembling multiple images to create single wide views. This eventually evolved into the moving panorama which was a precursor to the motion picture and cinema itself.
This exhibition presents individual works by eight different painters which are all in the same scaled panoramic format, a 2:1 format but each tackling very different ideas, themes and images. This is the third exhibition in an ongoing series once again bringing together the work of these eight international Berlin-based artists. Like the two previous exhibitions, 6 Squared (2013) and Triptych (2014), each artist has created one new work specifically for this show which responds to the constraints and challenges but also the insights and discoveries from working within a particular pre-defined format.

Opening times: Saturday & Sunday 2pm to 5pm
and by appointment: +49 172 746 7225
Kunsthalle m3, Mengerzeile 1-3 12435 Berlin
email: info@atelierhaus-mengerzeile.de | www.kunsthalle-m3.de