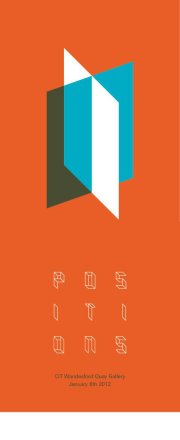 GAIA PROJECTS 
IN ASSOCIATION WITH CIT CRAWFORD COLLEGE OF ART AND DESIGN ARE PROUD TO PRESENT:

"POSITIONS"

a group exhibition at the CIT Wandesford Quay Gallery running from Friday 6th January – 31st January 2012.

"Is the syntax that requires beginnings, developments and ends as statements of fact the only syntax that exists? That's the real question. There are other syntaxes. 
There is one, for example, which demands that varieties of intensity be taken as facts. In that syntax nothing begins and nothing ends; thus birth is not a clean, clear-cut event, but a specific type of intensity, and so is maturation, and so is death."

Carlos Castaneda: "The Active Side of Infinity"

Why do certain artists choose to follow traditional methods of creating art, while others feel free to make videos, performance and installation?

Is there a place for tradition within contemporary practice, or has today's cutting edge art lost sight of skill and craft?

While a love for tradition may hold back certain artists from exploring new syntaxes, does the freedom to create anything in any way mean that contemporary art is being made in a vacuum? Or are both directions simply differing "intensities" of creation?

This exhibition seeks to explore the various artistic positions that artists have taken and why.


DERMOT BROWNE / KELLY RATCHFORD / GAVIN HOGG / ENDA O'DONOGHUE 
NEDYALKA PANOVA / TOM CLIMENT / BRIAN DUGGAN / KIWOUN SHIN 
NICHOLAS ROBINSON / ALLYSON KEEHAN / CHRIS DORIS 
EOIN LLEWELLYN / AOIFE DESMOND / TINY LITTLE HORSE 
MIGUEL SOARES / MICHAEL CULLEN
http://www.facebook.com/events/180749378688989/ 
Wandesford Quay Gallery, Clarke's Bridge, Cork http://ccad-research.org/gallery/