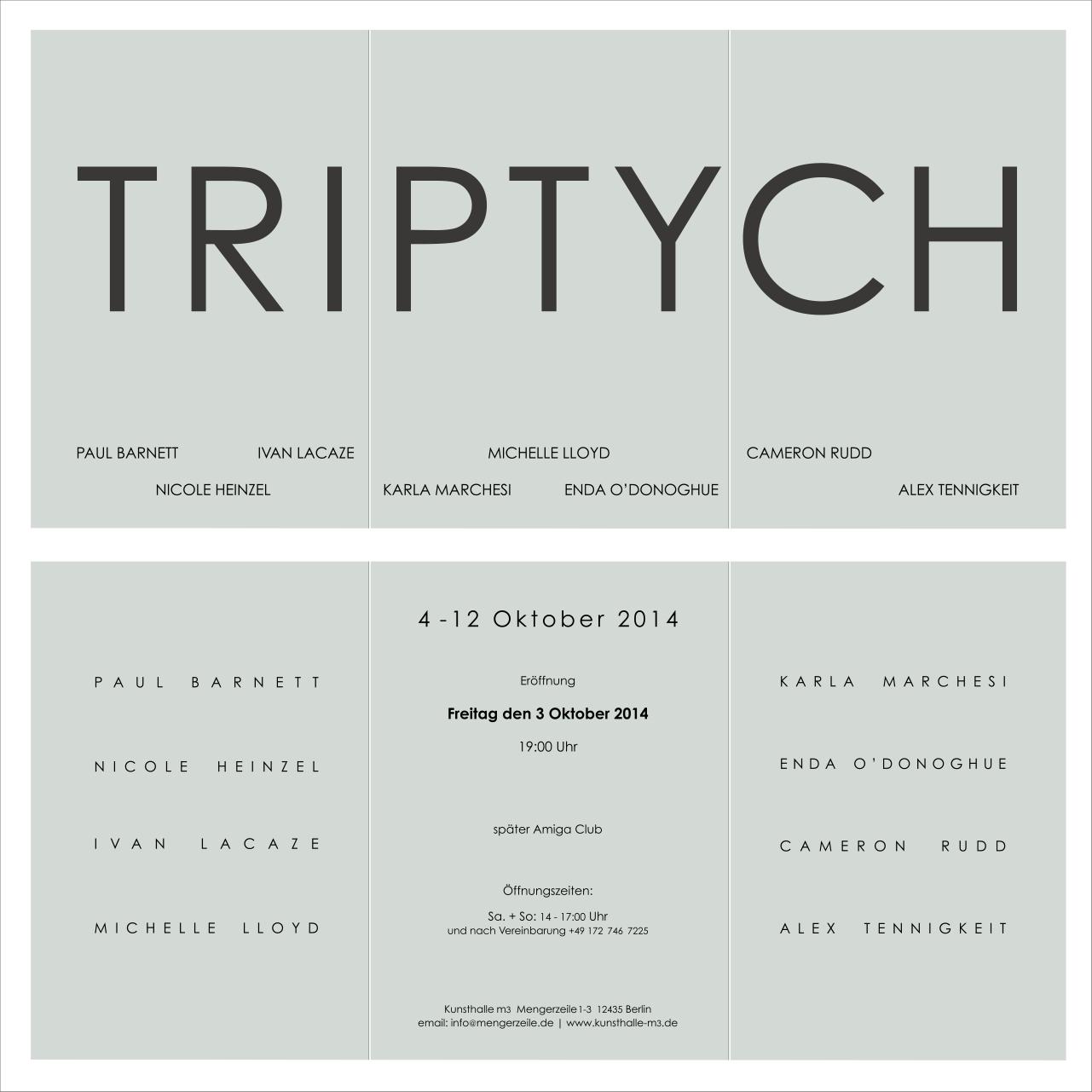 TRIPTYCH
PAUL BARNETT
NICOLE HEINZEL
IVAN LACAZE
MICHELLE LLOYD
KARLA MARCHESI
ENDA O'DONOGHUE
CAMERON RUDD
ALEX TENNIGKEIT

4 -12 Oktober 2014

Eröffnung: Freitag den 3 Oktober 2014, 19:00 Uhr
später Aftershowparty im Amiga Club
Triptychon stammt von dem griechischen "triptykhos" ab, d.h. etwa drei (tri) und falten (ptykhos). Wurde das Triptychon in der Antike ursprünglich als dreiteiliges Schrifttablett verwendet, entwickelte es sich vom Mittelalter bis zum Barock zu einem der prachtvollsten Werken der Christlichen Kunst, dem Altarbild.
Diese Faszination mit dem Triptychon mag auf eine Verbindung mit der Zahl 3 zurückgehen, eine Zahl, die seit Jahrtausenden in der Zivilisation eine symbolische Rolle spielte. Die Griechen schätzten den mathematischen Charakter der Zahl 3 und deren enge Verbindung zu Pi und dem Dreieck. Auch die Triade der westlichen und östlichen Philosophie, repräsentiert den Geist, den Körper und die Seele - zu sehen in dem heidnischen Triskel oder der Dreieinigkeit des Christentums.
Von religiösen Themen nicht mehr eingeschränkt, wird das zeitgenössische Triptychon offen als dreiteiliges Komposition interpretiert, die sowohl in der Musik und Literatur als auch in der Malerei, Bildhauerei, Fotografie und Video Kunst zu finden ist. Mit ihrer Format-basierten Ausstellung wollen acht in Berlin lebende internationale MalerInnen ihre Interpretation des Triptychons vorstellen .
Öffnungszeiten:
Sa. + So: 14 - 17:00 Uhr
und nach Vereinbarung
+49 172 746 7225
Kunsthalle m3 Mengerzeile 1-3 12435 Berlin
email: info@
mengerzeile.de
|
www.kunsthalle-m3.de
--------------------------------
ENGLISH VERSION
TRIPTYCH
PAUL BARNETT
NICOLE HEINZEL
IVAN LACAZE
MICHELLE LLOYD
KARLA MARCHESI
ENDA O'DONOGHUE
CAMERON RUDD
ALEX TENNIGKEIT

4 -12 October 2014

Opening: Freitag den 3 Oktober 2014, 19:00 Uhr

later Aftershowparty Amiga Club
Triptych
"Triptych" stems from the Greek "triptykhos" meaning three (tri) and fold/layer (ptykhos). Used as a writing tablet of three hinged parts in Antiquity, the triptych evolved from the Middle Ages to the Baroque into one of the most splendid features of Christian art, the altarpiece.
The fascination with the triptych may be linked to the number three, itself a significant symbol in civilization for millennia. The Greeks admired its mathematical properties and close association with pi and the triangle. In Eastern and Western philosophy the triad represents the mind, body and spirit, evident in the pagan triskel or the Christian Trinity.
No longer bound to a religious narrative the contemporary triptych is openly interpreted as a tripartite compositional form, found in musical and literary works as well as in painting, sculpture, video and photography. In this format-based show, eight international Berlin-based painters present their translation of triptych.