By Ferial Kasmai from Paper visual art journal (an online publication for contemporary art)
original published on 13th April 2010 here: http://papervisualart.com/?p=1976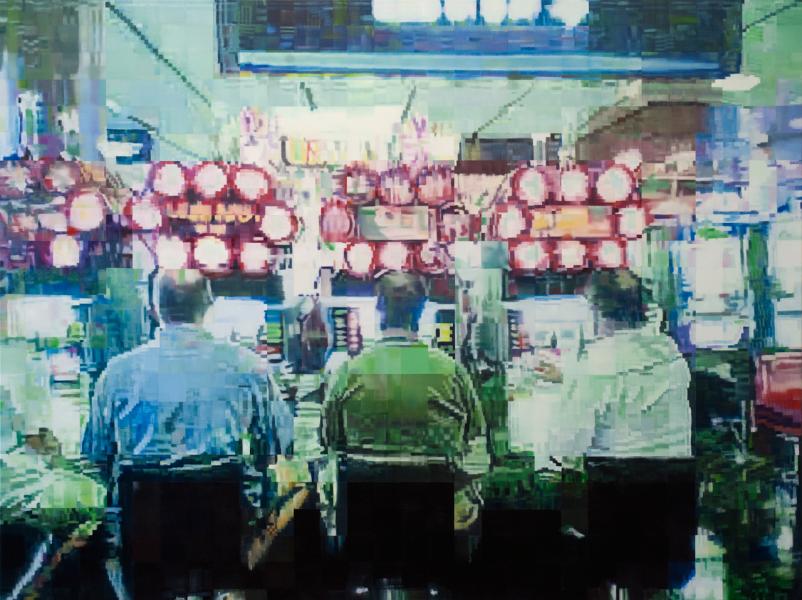 Enda O'Donoghue: Reno (2011) Oil on Canvas , 180 x 240 cm, image courtesy Enda O'Donoghue.
In the last couple of years, Berlin's art scene has become a magnet for continuous stream of artists from all over the world. The city offers the perfect setting for major exhibitions, international art fairs, commercial galleries, studio visits and other events, as well as social and networking opportunities.
Berlin-based Irish artist Enda O'Donoghue discovered the city as a hot spot for contemporary art when he moved there seven years ago. Arriving in Berlin O'Donoghue first was only "watching and not actively looking for a place with a strong artistic scene." Over the years, O'Donoghue has "been observing the city's artscene thriving and gaining a rising international reputation". He describes the vibe of the city as "quite unique," particularly due to the number of ambitious off-site projects, discussion forums and live art and film events which invite artists to share and exchange ideas and expand their knowledge.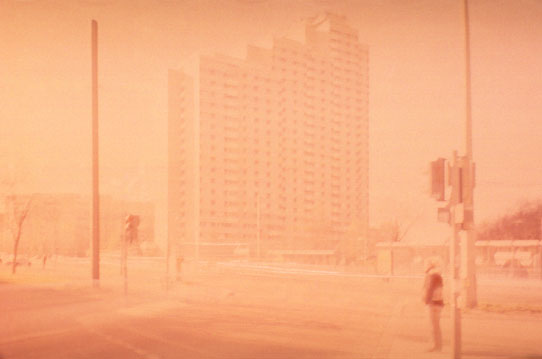 Gregor Stephan: Untitled (from 5 second cityscapes), 2007 – Gregor Stephan; image held here
For the past five years, O'Donoghue has being renting a studio in an old piano factory sharing with a community of about thirty artists. He explains that "rents are cheap and there are a lot of empty abandoned buildings for renting studio and spaces for exhibitions." Further, he points out that "Berlin apparently offers more gallery spaces than any other European cities and this only represents the official spaces." This could be the result of the economic situation in Berlin that has been transformed since the collapse of the Berlin Wall. While Germany remains the Europe's largest economy, Berlin has been experiencing economic slowdown coupled with lack of strong industry and high unemployment leaving local industries struggling to survive in the market. As a consequence, emerging available empty spaces and affordable rents have been attracting artists and non-profit art institutions and leading to a flourishing artistic individuality. Tough economic times seem to encourage thriving and reviving creative activities.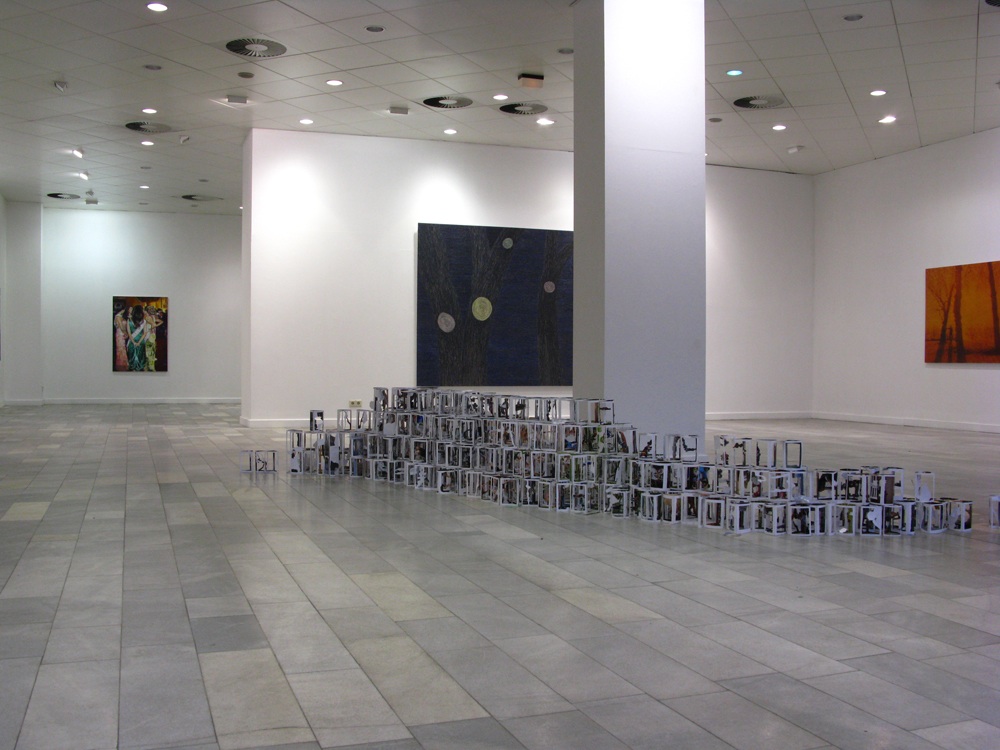 der PROZESS: Susanne Pomrehn, installation view, 2009, image courtesy Enda O'Donoghue.
One of the recent influential trends in contemporary art is organising off-site projects. This trend has a long tradition in Berlin. Many artists embrace this distinct opportunity and step into the role of art curator and get involved in organising group shows. In this manner. O'Donoghue recently curated and organised, together with German artist Gregor Stephan, an off-site group exhibition called der PROZESS. This show was the second in a series of off-site group exhibitions that O'Donoghue and Stephan have organised with the support of Galerie Hunchentoot, a relatively new gallery in Berlin. The group exhibition took place in an empty commercial premise in the centre of Berlin and presented a considerable body of artworks by eight artists in painting, photography, installation and graphics including work by both O'Donoghue and Stephan. The concept of the exhibition revolved around the process of image-making and the depiction of reality – an integral approach to reconfigure and deconstruct a part of reality like the procedure of translating. In this way, each artwork challenges the viewer's perception in decoding and re-translating the reality depicted beyond the original meaning. The inspiration behind the exhibition concept was the result of a long running email discussion and talks between O'Donoghue and Stephan. They have presented excerpts from this in a catalogue, which accompanied the show:
"……some Japanese guys have invented a machine called something like image process and process images apparatus…..in short do something like an inject printer…."
(…)
"21st century process art—-The idea of overcoming or challenging the fixed image with any means. I think what is interesting is to explore the tension between something procedural and an endurable image. And if that gives us a relation to current situations such as the art market which prefers in times of crises only single paintings……..great…….."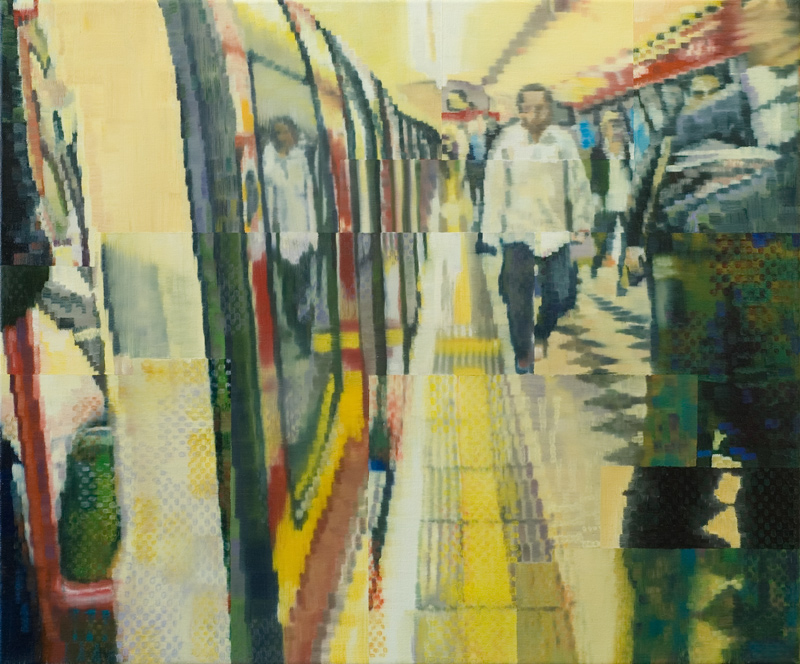 Enda O'Donoghue: Sense of Direction (2009), oil on Canvas, 50 x 60 cm; image held here
Walking around the exhibition venue the viewer is faced with a wide range of inter-related art works: images of football stadium painted with drops of paints on top of each other by Matthew Davis; large scale collages made with shredded pages of a world atlas and maps by Manfred Peckl; photographs with extreme long exposure where it is not just about recording the images but almost the images is recorded as part of the whole of receiving by Gregor Stephan; and photographic installation using collage of found images relating to current affairs by Susanne Pomrehn. O'Donoghue's paintings are based on digital images found on the internet that are taken by ordinary people and present images from their daily lives. The making of these paintings is a slow meticulous and methodical process – almost like a mathematical or computer programmed process. In order to explore the low quality of the images, O'Donoghue de-constructs the images piece by piece on the paper and then re-constructs them through painting. The finished art work is a depiction of an exaggerated low quality digital image that existed in the original image. O'Donoghue refers to his work as a shift from digital imaging to painting like the act of translating. Processing and translating – what will be next?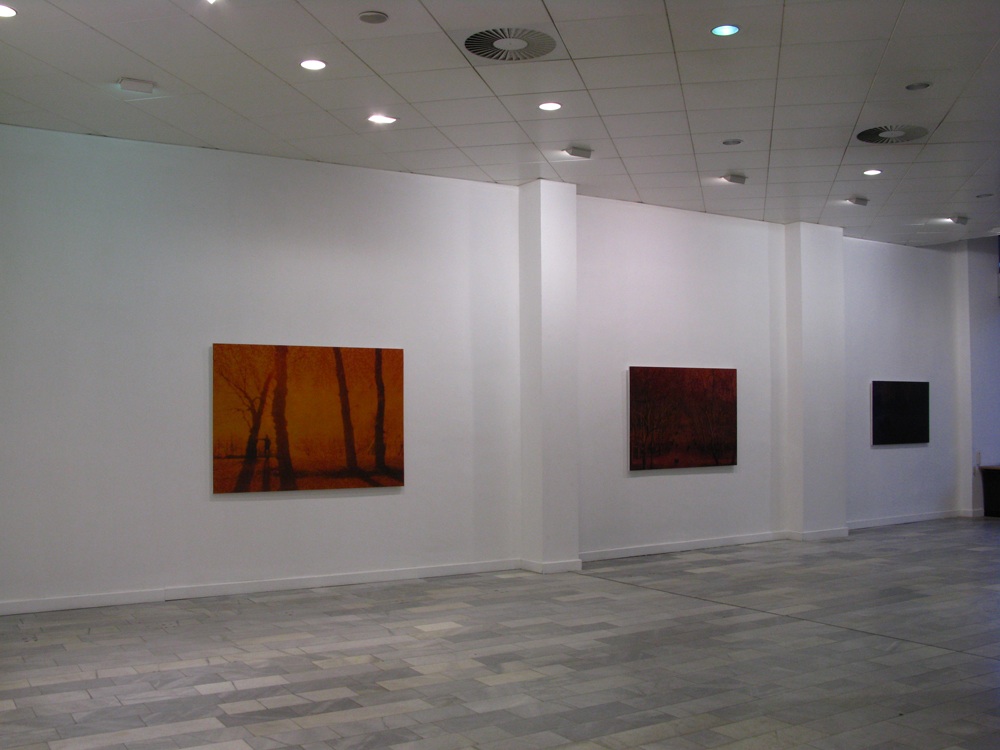 der PROZESS: Gregor Stephan, installation view, 2009, image courtesy Enda O'Donoghue.
This show came about through a year discussions and exchanging ideas between the curators/artists and is the result of a continuous evolving project. Berlin offers, unlike other cities, a compelling combination of opportunities such as cheap rents, availability of empty spaces and a vast number of international artists living and working in Berlin. This environment fosters exchange and dialogue between studio artists, the wider arts and general public and provides a platform to experiment with innovative ideas. O'Donoghue and Stephan are planning to organise and curate another off-site group exhibition together sometime in the coming year – bringing completely different art works under a different concept to another venue in Berlin.
Ferial Kasmai is a freelance journalist who lives and works in Berlin.
der PROZESS: Galerie Hunchentoot, Berlin, 27th November – 22nd December 2009.
Artists: Susanne Pomrehn, Matthew Davis, Manfred Peckl, Dennis Neuschaefer-Rube, Enda O´Donoghue, Gregor Stephan, Marc Volk und Günter Wintgens.