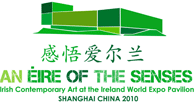 Work by Enda O'Donoghue will be featured in the forthcoming exhibition An Éire of the Senses at the 2010 Expo in Shanghai.
An Éire of the Senses is an exhibition being held at the temporary exhibition space of the Ireland pavilion. It is organised by the 411 Galleries under the curatorship of James Ryan a locally based artist. The exhibition includes painting, drawing, video art, sculpture, photography and printmaking from 21 of Ireland's leading contemporary artists.
The exhibition runs from the 16th to 30th June 2010 with an official opening on the 19th June.
The artists involved are John Roch Simons, Mary Yorke, Sean Lynch, Donald Teskey, Enda O'Donoghue, Michele Horrigan, Susan Connolly, James Ryan, Breda Lynch, Des MacMahon, Cecilia Bullo, Maurice Quillianan, Conal Creedon, Sean Taylor, Martin Shannon, Eamon O Kane, Robert Ryan, Sam Walsh, Noel Molloy and Barry W Hughes.
http://www.irelandexpo2010.com/events_calendar
http://www.411galleries.com.cn/info.php?BigClass=9&SmallClass=0